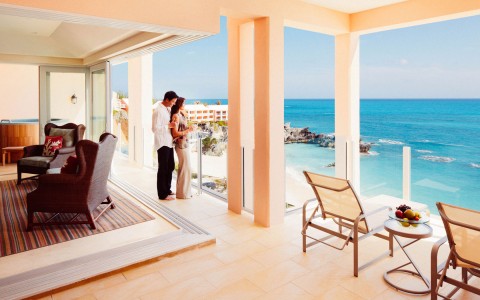 SAVE 30-50% ON LUXURIOUS CONDO RENTALS
Enjoy a premium experience with a stay in our Club Condos and save 30-50% from now through March. Club condos are perfect for families, two couples, or an extra special trip for two.
The Reefs Resort & Club's

Best Bermuda Deals

A relaxing getaway to The Reefs is always a memorable experience. And with one of our Bermuda vacation packages or a special offer, your stay will feel even more rewarding.
Pink Sale - Save Up To 50%

Poolside and Cliffside rooms have savings of up to 35% during certain periods, while Junior Suites are up to 50% off at times.

View Details +

Book Now

Tired of the cold already? Ready to escape to somewhere warm and where you can truly feel perfectly at ease? Then our Pink Sale provides the opportunity for great savings for either a quick upcoming trip or if you are planning a visit for later on in the year.

Come immerse yourself in all Bermuda has to offer, at the family run boutique hotel that provides a truly authentic experience of Bermudian hospitality.

Our Pink Sale offers great savings throughout the year. Poolside and Cliffside rooms have savings of up to 35%, while Junior Suites are up to 50% off at times.

Need to cancel or plans change? No problem! Your two night deposit is fully refundable up to 14 days prior to arrival.

Terms: Discounts range from 15% to 50%, based on the time of year. Please use the promotion code PINK when making bookings.

Travel dates run from January 5th to December 23rd, 2017. Black out dates are May 25 – July 8 and October 6 - 8. Rates are subject to availability, as there are limited rooms per category available each night for this promotion. A two night deposit is due at time of booking, and is refundable if cancelled by 14 days prior to arrival.

Book Now

SAVE 30-50% ON LUXURIOUS CONDO RENTALS

Enjoy a premium experience with a stay in our Club Condos and save 30-50% from now through March. Club condos are perfect for families, two couples, or an extra special trip for two.

View Details +

Book Now

Enjoy a premium experience with a stay in our Club Condos and save 30-50% from now through March.

Elegantly appointed 2-bedroom beachfront condos combine luxury with classic Bermudian style. With expansive views overlooking The Reefs private pink sand beach and turquoise Atlantic waters, Club condos are perfect for families, two couples, or an extra special trip for two. Each condo features a full kitchen, 2 private bathrooms, hot tub and balcony.

Rate includes breakfast for up to 4 people.

We offer a limited number of Club Condos (only 2 available per night), so book early to take advantage of these great savings!

Fall 2016 Thru Early 2017*

Sept 20 – Oct 11 = $1,250 (30% off)

Oct 12 – Nov 26 = $1,095 (38% off)

Nov 27 – Dec 23 = $895 (50% off)

Dec 24 – Jan 2, 2017 = $995 (44% off)

Jan 3 – Mar 16 = $895 (50% off)

Mar 17 – 31 = $995 (44% off)

*Subject to availability. Other restrictions may apply.

Book Now

Valentine's Day Dinner

Turn up the romance with a special Valentine's Day dinner at The Reefs. Enjoy our special four-course Valentine's Day menu with a glass of Prosecco for each and a long-stem rose for her.

View Details +

This Valentine's Day, bring your beloved to Aqua Terra for an elegant evening with striking ocean views and romantic ambiance. Our head chef has achieved prix fixe perfection with an aphrodisiac-inspired menu using locally sourced ingredients to elevate its already indulgent island-fresh fare. A complimentary glass of Prosecco and long stemmed rose are also included. Please call 441.238.0222 or email marneaud@thereefs.bm for reservations..

Romance Package

Whether it's your honeymoon or an anniversary, you're sure to enjoy our very special romance package. If truth be known, many of our guests need no occasion - the only thing that matters is the romance. We take care of the details so that you can take care of each other.

View Details +

The Reefs Romance Package includes:

An ocean view room for five nights
A welcome Rum Swizzle
Champagne and chocolate covered strawberries upon arrival
Two 60-minute massages — one for each of you
Daily breakfast, afternoon tea and gourmet dinner
A romantic dinner for two on the beach (available May through October)
Drink vouchers to enjoy a refreshing fun Bermuda drink
A keepsake gift to remember your trip
Round-trip airport transfer for two
All taxes and service charges



Category
5/1/16
10/31/16
11/1/16
11/30/16
12/1/16
3/31/17
Poolside
$4,665.00
$3,770.00
$3,115.00
Cliffside
$5,025.00
$4,100.00
$3,465.00
Junior Suites
$6,395.00
$5,085.00
$4,210.00
Longtail Suite
$6,695.00
$5,415.00
$4,645.00
Point Suites
$7,190.00
$5,875.00
$4,890.00

Call 800.742.2008 to book your stay.

Fishing Trip Dinner

If you want the best fishing story from your trip to Bermuda, we've got the perfect way to one-up anyone. Let our chef prepare your fresh catch for dinner, with service in either Coconuts or Aqua Terra.

View Details +

Book Now

If you want the best fishing story from your trip to Bermuda, we've got the perfect way to one-up anyone. Let our chef prepare your fresh catch for dinner, with service in either Coconuts or Aqua Terra. Our "Fishing Trip" menu features some of our culinary teams favorite starters, sides and dessert, alongside your freshly caught fish prepared exactly to your liking.

Book Now