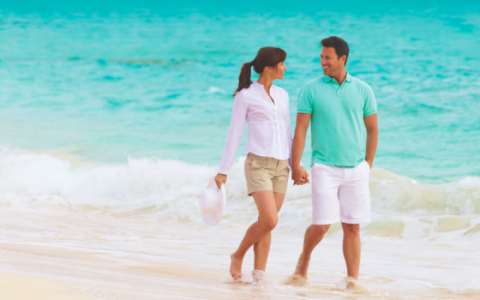 Stay A While And Save
Although there are already plenty of reasons to stay longer at The Reef -- pink sand, delectable chef creations, sparkling turquoise waters -- we decided to add one more. Save up to 30% when you extend your stay with our "Stay A While" offer.
The Reefs Resort & Club's

Best Bermuda Deals

A relaxing getaway to The Reefs is always a memorable experience. And with one of our Bermuda vacation packages or a special offer, your stay will feel even more rewarding.
SAVE 30-50% ON LUXURIOUS CONDO RENTALS

Enjoy a premium experience with a stay in our Club Condos and save 30-50% from now through March. Club condos are perfect for families, two couples, or an extra special trip for two. Each condo features a full kitchen, 2 private bathrooms, hot tub and balcony.

View Details +

Book Now

Enjoy a premium experience with a stay in our Club Condos and save 30-50% from now through March.

Elegantly appointed 2-bedroom beachfront condos combine luxury with classic Bermudian style. With expansive views overlooking The Reefs private pink sand beach and turquoise Atlantic waters, Club condos are perfect for families, two couples, or an extra special trip for two. Each condo features a full kitchen, 2 private bathrooms, hot tub and balcony.

Rate includes breakfast for up to 4 people.

We offer a limited number of Club Condos (only 2 available per night), so book early to take advantage of these great savings!

Fall 2016 Thru Early 2017*

Sept 20 – Oct 11 = $1,250 (30% off)

Oct 12 – Nov 26 = $1,095 (38% off)

Nov 27 – Dec 23 = $895 (50% off)

Dec 24 – Jan 2, 2017 = $995 (44% off)

Jan 3 – Mar 16 = $895 (50% off)

Mar 17 – 31 = $995 (44% off)

*Subject to availability. Other restrictions may apply.

Book Now

Hot Fall Rates

If you've been postponing booking your vacation, now is the time to act! Our Hot Fall Rates deliver rates as low as $225 a night. Act now, there are a limited number of rooms available at these rates.

View Details +

Book Now

If you've been postponing booking your vacation, now is the time to act! Our Hot Fall Rates deliver rates as low as $225 a night. Act now, there are a limited number of rooms available at these rates.

Cottage Special!

We are also offering a special limited time fall discount off of our cottages - take advantage of these great deals to stay in these unique accommodations with all the hotel facilities included, as well as breakfast daily!

September 5 - November 30 = 35% off

2 Bedroom Club Suites

We are doing some great fall rates for our luxurious two bedroom club suites. Complete with full living room and kitchen, these units are not to be missed! Please call Reservations for availability.

Book Now

La Serena Signature Facial


An indulgent Aromastone Massage to the back of the body, full facial, warm oil scalp massage and hand and arm massage with warm mitts.

La Serena Signature Massage
A deeply relaxing full body Aromatherapy Massage treatment that includes the face, neck, shoulders, scalp and abdomen. Heat is applied to the hands, feet and abdomen to soothe and balance.

Both options are 90-minutes.

To book by phone: 800-742-2008 or 441-239 0184.
To reserve by email: laserenaspa@thereefs.bm

Island Adventure Backpack

Let our culinary team outfit you for a day of exploring the island with our "Island Adventure Backpack". Built for two to share, you can choose from three different gourmet menu options, each including a bottle of Prosecco or wine.

View Details +

Book Now

Let our culinary team outfit you for a day of exploring the island with our "Island Adventure Backpack". Built for two to share, you can choose from three different gourmet menu options, each including a bottle of Prosecco or wine. Or, if you just can't pull yourself away from The Reefs' private pink sand beach, use the Island Adventure Backpack for an oceanside picnic!

Book Now

Caso's Point Private Dining

Experience Bermuda's most unique dining experience with a private ocean-front 5-course gourmet meal on The Reef's renowned Caso's Point.

View Details +

Book Now

Experience Bermuda's most unique dining experience with a private ocean-front 5-course gourmet meal on The Reef's renowned Caso's Point. Gaze upon a lingering sunset and savor the chef-inspired menu atop this intimate cliffside setting jutting over the sparkling waters of the Atlantic. Private dinner must be booked in advance. Available May - November.

Book Now

Fishing Trip Dinner

If you want the best fishing story from your trip to Bermuda, we've got the perfect way to one-up anyone. Let our chef prepare your fresh catch for dinner, with service in either Coconuts or Aqua Terra.

View Details +

Book Now

If you want the best fishing story from your trip to Bermuda, we've got the perfect way to one-up anyone. Let our chef prepare your fresh catch for dinner, with service in either Coconuts or Aqua Terra. Our "Fishing Trip" menu features some of our culinary teams favorite starters, sides and dessert, alongside your freshly caught fish prepared exactly to your liking.

Book Now

Stay A While And Save

Although there are already plenty of reasons to stay longer at The Reef -- pink sand, delectable chef creations, sparkling turquoise waters -- we decided to add one more. Save up to 30% when you extend your stay with our "Stay A While" offer.

View Details +

Book Now

Stay 7 - Book Now

Although there are already plenty of reasons to stay longer at The Reef -- pink sand, delectable chef creations, sparkling turquoise waters -- we decided to add one more. Save up to 30% when you extend your stay with our "Stay A While" offer. Save 20% when you stay 4 nights and 30% when you stay 7.

Package includes:

4 or 7 nights
Breakfast daily
So, why not stay a little longer?

Booking restrictions for 7 nights:

Not valid between May 15 - October 10

Booking restrictions for 4 nights:

July 24 – October 10, 2016: Requires a Sunday or Monday arrival

October 10 – December 31, 2016: No arrival or departure restrictions

Book Now

Stay 7 - Book Now

Wine Tasting

From April through mid-November, join us every Wednesday on the Terrace from 5pm to 6pm for a sampling of a wide array of robust wines guaranteed to make your palate sing. Complimentary for hotel guests and only $10 for non-hotel guests.

View Details +

From April through mid-November, join us every Wednesday on the Terrace from 5pm to 6pm for a sampling of a wide array of robust wines guaranteed to make your palate sing. Complimentary for hotel guests and only $10 for non-hotel guests.

Beach Dining

Indulge in the ultimate romantic dinner for two. Dine at the water's edge under the stars and bathed in the soft glow of a tiki torch. With the stage set, we'll serve a special 5-course meal complete with a glass of sparkling wine.

View Details +

Book Now

Indulge in the ultimate romantic dinner for two. Dine at the water's edge under the stars and bathed in the soft glow of a tiki torch. With the stage set, we'll serve a special 5-course meal complete with a glass of sparkling wine. Beach dining is available for an additional charge and advance reservations are required. To reserve, email frontdesk@thereefs.bm or call 441.238.0222.

Beach dining is available from mid-April through November.

$125 per person

Book Now

Chef's Table at Royston's

Hosted by our talented culinary team, we invite you to an exclusive seven-course dinner party on Wednesday evenings as we entice your palate with wonderfully creative local fare and hand-selected wines.

View Details +

Hosted by our talented culinary team, we invite you to an exclusive seven-course dinner party on Wednesday evenings as we entice your palate with wonderfully creative local fare and hand-selected wines, served in the elevated fine dining atmosphere of Royston's. Seating limited to 25 guests.

Chef's Table is available from mid-April through October, or by special event bookings.

Wadson's Farm-To-Table Tour & Dinner

Join us for a two-hour tour of nearby Wadson's Farm at noon on Tuesdays, where we'll explore the season's bounty, followed by dinner at 7 pm.

View Details +

Join us for a one-hour tour of nearby Wadson's Farm, where we'll explore the season's bounty, select the freshest ingredients and enjoy your own private farm-to-table dinner prepared by our chef that night. Advance bookings at least 2 days in advance. Contact the front desk or call us at 800-742-2008.

$150 pp, plus 17% gratuity

BBQ on the Beach

Cooking stations, a DJ and more make our Thursday night BBQ on the Beach a can't-miss culinary event.

View Details +

Cooking stations, a DJ and more make our Thursday night BBQ on the Beach a can't-miss culinary event. Beach BBQ is available late April through mid-November.
Join the fun, 6:30 – 10 pm.



Seafood Extravaganza

Friday nights join us for our Seafood Extravaganza, our all-you-can eat and wildly popular event in Aqua Terra. Featuring an extensive buffet and action-cooking stations coupled with DJ music and dancing.

View Details +

Friday nights join us for our Seafood Extravaganza, our all-you-can eat and wildly popular event in Aqua Terra. Featuring an extensive buffet and action-cooking stations coupled with DJ music and dancing. Seafood Extravaganza is available late April through October.

Romance Package

Whether it's your honeymoon or an anniversary, you're sure to enjoy our very special romance package. If truth be known, many of our guests need no occasion - the only thing that matters is the romance. We take care of the details so that you can take care of each other.

View Details +

The Reefs Romance Package includes:

An ocean view room for five nights
A welcome Rum Swizzle
Champagne and chocolate covered strawberries upon arrival
Two 60-minute massages — one for each of you
Daily breakfast, afternoon tea and gourmet dinner
A romantic dinner for two on the beach (available May through October)
Drink vouchers to enjoy a refreshing fun Bermuda drink
A keepsake gift to remember your trip
Round-trip airport transfer for two
All taxes and service charges



Category
5/1/16
10/31/16
11/1/16
11/30/16
12/1/16
3/31/17
Poolside
$4,665.00
$3,770.00
$3,115.00
Cliffside
$5,025.00
$4,100.00
$3,465.00
Junior Suites
$6,395.00
$5,085.00
$4,210.00
Longtail Suite
$6,695.00
$5,415.00
$4,645.00
Point Suites
$7,190.00
$5,875.00
$4,890.00

Call 800.742.2008 to book your stay.

Discover Bermuda Package

Think you know Bermuda? Our new Discover Bermuda package let's you explore some of the island's best-kept secrets including unique natural and cultural locations you didn't know existed.

View Details +

Think you know Bermuda? Our new Discover Bermuda package let's you explore some of the island's best-kept secrets including unique natural and cultural locations you didn't know existed. The package includes:

• 4 nights lodging
• 5-hour guided Hidden Gems tour for 2 including a gourmet picnic lunch (taxi transfer to tour is not included)
• Airport transfers
• Breakfast daily


The Hidden Gems tour offers different excursions based on the time of year. Hike into the lush jungle, explore spectacular caves, see Bermuda's wildlife in their natural habitat. Hidden Gems provides complimentary use of specific gear, such as binoculars, safety helmet, snorkel gear and flashlight. For more information on the Hidden Gems tour itinerary by time of year, click here:

Call 800.742.2008 to book your stay. Our team will make all arrangements for your Hidden Gems tour for your preferred date.

Don't forget your camera!

Category
5/1/16
10/31/16
11/1/16
11/30/17
12/1/16
3/31/17
Poolside
$3,465.00
$2,710.00
$2,185.00
Cliffside
$3,750.00
$2,975.00
$2,465.00
Junior Suites
$4,845.00
$3,765.00
$3,060.00
Longtail Suite
$5,085.00
$4,025.00
$3,410.00
Point Suites
$5,480.00
$4,395.00
$3,605.00

Call for reservations toll free at 800-742-2008 or your favorite travel agent.
Offer applies to new bookings only and is subject to availability; cannot be combined with other specials.

Perfectly At Ease Spa Package

Relax and rejuvenate like never before with our customizable spa package. As the island's only spa that overlooks Bermuda's turquoise waters, our La Serena Spa offers respite for mind, body and spirit.

View Details +

Relax and rejuvenate like never before with our customizable spa package. As the island's only spa that overlooks Bermuda's turquoise waters, our La Serena Spa offers respite for mind, body and spirit.

Package includes:

3 nights lodging
$250 gift certificate toward the spa treatments of your choice
Arrival gift with Elemis products
Nightly complimentary cocktail in the Lounge or Terrace
Breakfast daily

Our Perfectly At Ease package lets you customize how you relax. Choose from a wide range of treatments and services from some of the widest range of spa services options on the island including:

Relaxation
Deep tissue
Sports
Thai
Aroma Stone therapy
Reflexology
Reiki
NEW!! Medical massage and laser treatments
Facials
Manicures
Pedicures
and More!

Note: additional nights and spa treatments are available at the best available rate.

Call 800.742.2008 to book your stay. To ensure that you get your preferred time and treatments, please indicate your preferences at the time of booking.

Category
5/1/16
10/31/16
11/1/16
11/30/17
12/1/16
3/31/17
Poolside
$2,395.00
$1,920.00
$1,525.00
Cliffside
$2,610.00
$2,120.00
$1,740.00
Junior Suites
$3,435.00
$2,6710.00
$2,185.00
Longtail Suite
$3,610.00
$2,905.00
$2,445.00
Point Suites
$3,910.00
$3,185.00
$2,595.00