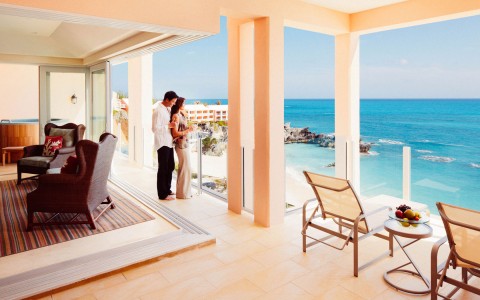 SAVE 30-50% ON LUXURIOUS CONDO RENTALS
Enjoy a premium experience with a stay in our Club Condos and save 30-50% from now through March. Club condos are perfect for families, two couples, or an extra special trip for two.
Find Your Island Vibe at

Our Top-Rated Bermuda Spa

Slip into an elegant atmosphere of tranquility at La Serena Spa. Whether you choose to enjoy the simple pleasures of a mani/pedi or indulge in an intimate couples massage, you'll surrender to a profoundly rewarding sense of peacefulness.

La Serena Spa offers eight treatment rooms, including a spa suite for dual massage, and a sublime relaxation room with expansive views of the Atlantic Ocean. We're the only Bermuda spa to offer Elemis of London products, one of the world's leading skincare brands.
Hours
Daily | 8 am – 8 pm
Please arrive 30 minutes prior to your scheduled appointment.


Exclusive Spa Treatment Products
The Reefs' La Serena Spa is proud to be the only spa in Bermuda to offer two of the most profound and effective spa treatment brands in the world, Elemis and Shankara.
A leading British brand, ELEMIS was born out of the vision to bring together the power of nature, science and aromatics. To harness the dynamism of the highest-grade actives and create a skincare line that would transform the frontline of the beauty industry. Offering pioneering treatments with naturally sourced, science driven products you can be assured that you will receive the best Spa treatment.
Alchemy of East and West, Shankara treatments embody love, beauty, wisdom and light. Therapeutic herbs and oils along with traditional techniques bring balance to the body, mind and spirit.
Shankara products are based in Ayurveda, a 5,000-year-old Indian tradition and philosophy based on knowledge of the youth-restoring effects and therapeutic uses of herbs and oils to bring balance to the body, mind and spirit. Ayurveda, "the science of life" is built upon the understanding of the five elements (space, air, fire, water and earth).
100% of the net profits from Shankara (the company) are donated to global humanitarian work via the International Association for Human Values (IAHV) Foundation.
Now Offering Medical Massage Services
The Reefs welcomes the addition of Thomas Elisseou to our team, providing medical massage services at La Serena Spa. Thomas is a Canadian Registered Massage Therapist, and certified Sports Therapist. He has over 10,000 hours of clinical experience with direct patient care. Thomas has worked mainly in physiotherapy clinics, athletic and sports therapy centers and rehabilitation facilities. As a registered therapist with the Bermuda Massage Association, Thomas' treatments are eligible for reimbursement from local insurance companies.

The Reef's La Serena Spa is the first in Bermuda to be offering Laser Therapy and Shock Wave Therapy. Each of these cutting edge technologies has an incredible success rate for treating a multitude of soft tissues injuries, chronic pain conditions and joint problems, such as:
Capsulitis and Bursitis
Sprains and strains
Hematomas
Tendinitis
Carpal Tunnel
Ligament & Tendon Injuries
Frozen Shoulder
Chronic Back & Neck Pain
Plantar Fasciitis
Osteoarthritis
Rheumatoid Arthritis
Call us at 441-239-0184 or email laserena@thereefs.bm to book your treatment.
La Serena Express, Hamilton
La Serena Express Spa is the Hamilton outpost of the award winning La Serena Spa at The Reefs. Located on the 3rd floor of the historic A.S. Cooper department store on Reid Street, the self-contained treatment room boasts a beautiful harbor view. La Serena Express provides stellar services to clients who are on the go. With treatments available in 30 – 45 minute sessions, La Serena Express' menu features facials, world-renowned 'Bliss' waxing and manicure services. To book your next appointment at La Serena Express call 441-239-0184.
Each spa treatment on our full-service menu is customized to meet your individual needs and is suitable for both men and women.
Spa Cuisine
We offer a healthful and tasty menu prepared by our talented Executive Chef, especially for our spa guests. Fresh ingredients and healthy preparation methods are the perfect complement for your body after one of our exclusive treatments.