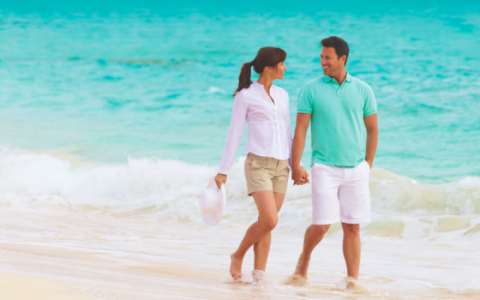 Stay A While And Save
Although there are already plenty of reasons to stay longer at The Reef -- pink sand, delectable chef creations, sparkling turquoise waters -- we decided to add one more. Save up to 30% when you extend your stay with our "Stay A While" offer.
Bermuda's Most Beloved
Boutique Beachfront Retreat
Discover
Welcome To
The Reefs
One of the island's favorite resorts, The Reefs Resort & Club is a classic Bermudian retreat tucked along the island's celebrated South Shore. Named #1 in the region by the readers of Conde Nast Traveler, this elegant, award-winning hideaway is the essence of Bermuda's ageless glamour and quiet restraint, perfectly capturing the rich heritage and cherished traditions that have made it a mecca for honeymooners, Anglophiles and America's Cup contenders.
Dive In
THE REEFS
At a Glance
The Reefs at a Glance- Bermuda is often referred to as the "Jewel of the Atlantic," and we're the jewel of Bermuda, from the luxurious comfort of our ocean-facing rooms to our unique dining experiences that offer visitors a taste of Bermuda. Whether you're here for a tropical dream wedding or just to relax on our pink sand beaches, we'll take care of everything.
Learn More
Show-off
your trip
Help us showcase The Reefs and your trip to Bermuda through your eyes. Submit photos from a current or past trip to The Reefs for the chance to win a 5-night stay for two, including breakfast, lunch and dinner.
I'm In!
"A Feast for your eyes as well as your Soul"
"From the moment we landed we knew we were in Paradise! And to top it off, our resort was Spectacular! Even before we arrived they called us to check if we needed anything special and was this any kind of special occasion besides "getting out of Dodge". When we arrived they were ready with a cold towel and a fruit drink (rum if you wanted...)and our room was ready with the fixin's for a Dark and Stormy and bottles of water as well. From then on they knew our names and answered our questions and attended to every detail for a perfect Vacation. And it was off season and perfect for us as well. We will be back!!!"
"Outstanding Mini-Vacation"
"We spent three nights in a cliff-side room overlooking the beautiful beach. Bermudians don't go in the water until late May, but as Northerners, we found the ocean great at 72 degrees. The Reefs is a meticulously maintained property with excellent service. We will be back as soon as we can."
"Costumer Service to the hilt."
"Employees could not have been nicer or more accommodating. One of them actually recognized us at the bus stop on his way home from work and took us on a tour to places that natives know. Then continued onto our original destination with tales of long ago, as told to him as a child by his Nana. This is one special place with very special citizens."
"Short trip to Bermuda resort"
"The reefs resort is in an idyllic position on the cliffs of Bermuda. The resort is well serviced and the staff are extremely friendly. The rooms are spacious (the suits anyway) and over look the Atlantic Ocean. The rooms are well equipped and are very well equipped."