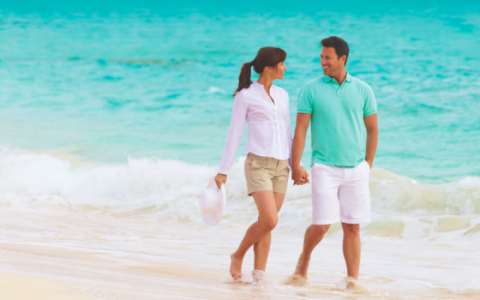 Stay A While And Save
Although there are already plenty of reasons to stay longer at The Reefs this fall and winter -- pink sand, delectable chef creations, sparkling turquoise waters -- we decided to add one more. Save 15% when you stay 5 nights or more and 30% when you stay 7 or more with our "Stay A While" offer.
Bermuda's Most Beloved
Boutique Beachfront Retreat
Discover
Welcome To
The Reefs
One of the island's favorite resorts, The Reefs Resort & Club is a classic Bermudian retreat tucked along the island's celebrated South Shore. Named #1 in the region by the readers of Conde Nast Traveler, this elegant, award-winning hideaway is the essence of Bermuda's ageless glamour and quiet restraint, perfectly capturing the rich heritage and cherished traditions that have made it a mecca for honeymooners, Anglophiles and America's Cup contenders.
Dive In
a better stay begins by booking direct
Complimentary Wi-Fi
Welcome Rum Swizzle
Daily Afternoon Tea
THE REEFS
At a Glance
The Reefs at a Glance- Bermuda is often referred to as the "Jewel of the Atlantic," and we're the jewel of Bermuda, from the luxurious comfort of our ocean-facing rooms to our unique dining experiences that offer visitors a taste of Bermuda. Whether you're here for a tropical dream wedding or just to relax on our pink sand beaches, we'll take care of everything.
Learn More
The Reef Resorts
56 South Shore Road
Royal Naval Dockyard
8.13 miles, 23 min drive
Horseshoe Bay Beach
1.3 miles, 5 min drive
City of Hamilton
6.8 miles, 20 min drive
Bermuda Aquarium
9.19 miles, 26 min drive
Town of St Georges
16.4 miles, 45 min drive
"Words cannot describe the beauty of this place!"
"I was in Bermuda for a 2nd time (2nd year in a row) and I typically stay with my Dad and his wife in their timeshare in St George. This year I wanted to stay for a couple of nights somewhere that was dreamy and resort like. And The Reefs did NOT disappoint. From every single aspect of my stay, the rum swizzle upon arrival to the infinity pool to the staff to the room itself, it was truly, truly spectacular! Oh and the private beach! I look at pictures, and it literally makes me sad. Nevertheless, I will be back 06/17! The Reefs is a must!!"
"Amazing view and comfy"
"I love this place and we celebrated our 20th anniversary here. It is cozy and intimate and the pool overlooks the beach, which is pure and non crowded. The water is clear and its secluded. You'll want to hit the pantry at Henry The 8th nearby to get snacks. The fish tacos are amazing and they bring food from Coconuts to the pool or beach. No extra charge for snorkels or little kayaks and canoes. The spa is fantastic. Only down side is the wifi is rather poor. I'll stay again for sure!"
"Beautiful location, outstanding service"
"This is a beautiful property on the south coast of Bermuda. The staff is genuinely interested in your well being, ensuring that you have an excellent vacation! The breakfast is awesome, with great selections and fresh local food."
"Fantastic resort"
"A very overdue review. I went to this resort over a while ago and it's still on my mind. Fabulous rooms, location, restaurant and staff. I've traveled all over the world to many fine resorts. The Reefs stands out in my travels as one of the best resorts. They have a beautiful white sandy beach. A fantastic place to visit."
"Beautiful View with an Exceptional Experience!"
"Bermuda is one of the best Caribbean islands I've ever been to the people are extremely friendly and the island itself is very clean. My experience at The Reefs Hotel started with a welcome note from the manager thanking me for choosing The Reefs Hotel. Checking in was short and the complimentary cocktails definitely helped alot. The room was immediately available so that's a plus being that i had an early flight and arrived before the stated check in time. The Staff were friendly an attentive to every detail.Another plus was the great food from the on site restaurant. Great experience overall. If you don't mind eating like a local try the Bermudan Breakfast."