Chef Douglas Sisk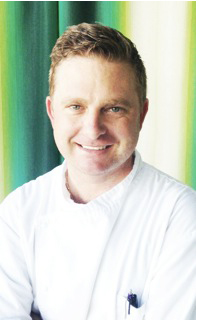 The Reefs' unique, mouthwatering culinary offerings are driven by the passion and creativity of Chef Douglas Sisk. The award-winning Certified Executive Chef brings 28 years experience in serving high-profile venues and clients, including celebrities, Presidents and political figures including Presidents George H.W. Bush and Bill Clinton, as well as the Prime Minister of Jamaica.

Chef's inspired creations are the culmination of his experience in various world-renowned culinary centers, including the world-famous Sardine Factory Restaurant in Monterey California, the Atlantis Resort in the Bahamas, and The Havana Club in Miami.

Chef Sisk's talents have captured the attention of media, food critics and professional competitions, where his creations have won numerous awards and featured in high-profile media. He has appeared on many television shows including a television feature on Food Network's Hot Off the Grill with Bobby Flay.

Chef Sisk's career began at age 14, where his initial role as bus boy and dishwasher was quickly usurped by an early interest and natural aptitude for cooking. He honed his skills in various restaurants in St. Louis, MO and earned a degree in Culinary Arts and Hotel Restaurant Management. The American Culinary Federation awarded him the prestigious title of Certified Executive Chef for his high level of professional training and expertise. He has also earned ServSafe Manager and HACCP Certification from NSF based on rigorous criteria in food service safety and sanitation.

Chef's vision and passion for culinary art is expressed in every meal served at The Reefs. We invite you to enjoy the results of his creativity and island-inspired menu offerings on your next visit. Bon Appetit!