Stay A While And Save
Although there are already plenty of reasons to stay longer at The Reefs this fall and winter -- pink sand, delectable chef creations, sparkling turquoise waters -- we decided to add one more. Save 15% when you stay 5 nights or more and 30% when you stay 7 or more with our "Stay A While" offer.
The Authentic Blog of the Reefs Resort & Club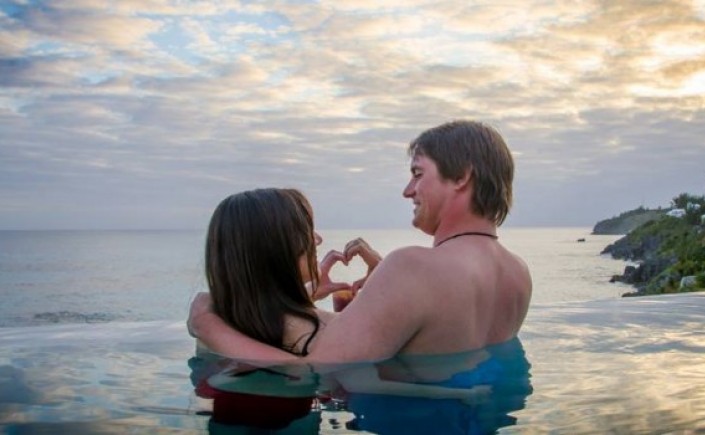 Love Stories from The Reefs Winners: Liz & Drew
Over the past few months, we asked our Facebook fans to share their most romantic moments at The Reefs Resort & Club, a luxury Bermuda hotel. With many beautiful stories to choose from, our decision wasn't easy but, this Valentine's Day, we're excited to announce our winning couple - Liz and Drew Stagi!
Liz and Drew's love affair with Bermuda began before they even reached the island together. "Liz, I want to take you to the most beautiful place on earth â?" Bermuda," said Drew after several months of dating. An expert on Bermuda travel, Drew had been visiting the island for more than 20 years. Liz will never forget hearing Drew rattle off his favorite things about Bermuda vacations (Coconuts was at the top of the list).
Flights were booked, reservations were made, and a few months later, Liz couldn't believe they were walking down the path toward Coconuts. Drew was excited to share his love and knowledge of the island with Liz, and she was struck by the beauty of it all.
Their first Bermuda experience brought them closer together and they resolved to come back every chance they got. On their first trip, they laughed at the plausibility of this. Today, they laugh at how accurate their resolution was. Nearly a year later, they returned. They were enjoying champagne and beachside dining when Drew popped the question with a ring he designed himself to symbolize Bermuda. A deep sapphire surrounded "waves" that matched the Bermuda waters in the horizon. Of course Liz said "yes" and the couple excitedly toasted their Bermuda engagement. It was perfect. It began to drizzle and rather than moving inside with the rest of our guests, Liz and Drew basked in the whimsical sign of good luck. The rain stopped and they ended up with our private beach to themselves.
While a Bermuda destination wedding was their top pick, with a growing guest list, the duo ultimately tied the knot closer to home. But when Drew's 30th birthday rolled around, Liz knew exactly how to celebrate. The couple celebrated Drew's 30th in Bermuda with two close friends, one of whom took these gorgeous photos.
"We cannot wait, in the years to come, to bring our children here so they can experience the joy of stepping onto the spongy pink sand for the first time and the inviting smells wafting from Coconuts," said Liz. "They will fall in love with Bermuda at The Reefs Resort, too." We look forward to welcoming Liz & Drew back to The Reefs Resort & Club for a weekend to relive their love story!
Read other posts