Reefs' Executive Chef Brings Culinary Innovation
We are thrilled to introduce the very talented and very passionate Douglas Sisk, our new Executive Chef here at The Reefs Resort & Club! We asked Chef Douglas what guests should be prepared for when dining at The Reefs from now on. His response: "I have devoted my entire life to food - guests should get ready to be amazed!"
Since starting in the restaurant business at 14, Chef Douglas, has worked his way up from bus boy and dishwasher to each station across the kitchen, learning the ropes quickly. He attended Sullivan University, in Louisville, KY, where he earned a degree in Culinary Arts and Hotel Restaurant Management.
Originally from St. Louis, MO, Chef Douglas has worked in several beach destinations including: Jamaica, California, Miami and the Bahamas. Always excited to work in a new environment, Chef Douglas thinks The Reefs is unique because of its famed history on the island and the property's relationship with its devoted guests.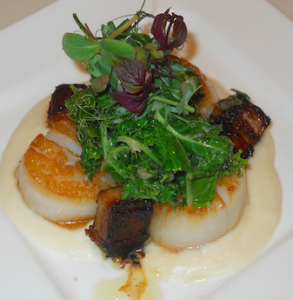 Chef Douglas has enjoyed working with our team to reinvigorate the guest dining experience at The Reefs. And he has done just that - the new menus at Coconuts and Ocean Echo are unlike anything you've seen here at The Reefs before.
His vision for dining at The Reefs is to provide a far superior product than any other resort on the island by producing innovative, creative, healthy, trend-setting food. We put complete confidence in his more than 27 years of experience and award-winning culinary skills and we have to tell you - we were not disappointed! Every single item on both menus is awe-inspiring and delicious!
While the new Classic Reefs Menu at Ocean Echo, Royston's, and the Terrace takes on a more traditional feel, you can expect bold colors and bold flavors from the new, tropical, South American-inspired Coconuts cuisine.
When Chef Douglas is not working at The Reefs, you'll find him catching up on laundry or hitting the links on one of our beautiful Bermuda golf courses.
Next time you're here, we hope you'll dine with us for an amazing meal from Chef Douglas!
Read other posts